Wow! can I just say that for the last Download N Go review of the school year, Sunny Seashells is amazing? We were absolutely enthralled with the beautiful seashells and the lovely animals that make them. There was so much of this that I didn't even know, it was simply fascinating!
Sunny Seashells
is full of neat features, like a country of the day, seashell of the day, and more. Here is a list of the chapters:
Day 1: Seashells--What Are They?
Day 2: Seashells and History
Day 3: Types of Seashells
Day 4: The Science of Seashells
Day 5: Seashell Party!
Each day has a variety of activities, including lovely drawing sheets, interesting worksheets about the animals and countries, lots of lapbook pieces, and beautiful videos embedded on Download N Go's own website pages. We just love the videos and the kids remember them exceptionally well. This study was especially enhanced by the videos, since we are all used to seeing empty seashells. It is so neat to be able to watch the live animals in action!
I highly recommend having some real seashells of your own for this study. We had a dishful from mommy's childhood trips to Florida, and they enhanced the study in many ways! We sketched them, sorted them, compared them, and tried to figure out how a real live critter would live in them. You can frequently get real seashells at Walmart or craft stores, and they are not expensive. What a neat way to enhance this study for those of us who are landlocked!



One of the neat features of these studies is the poetry pages. After each day's readings, there is a gorgeous page with poetry or Bible verses on a photograph. These are just beautiful, and I think they are perfect to go along with the study as copywork. There are normally copywork pages included with the study with themed borders or photographs, so you can pick one of two of those, and use them with the lovely verse pages. An older child might want to do one verse a day, while a younger child might need to work on the same page all week.
Since this is my last review of the year, I wanted to add another things about Download N Go unit studies, that you might not notice fi you only did one or two. A lot of these studies are somewhat interconnected, so not only are you learning through connections each week, but every so often your children will notice something that refers them back to an earlier study that they did. For example, In
Sunny Seashells
, three of the five places visited are Australia, Africa and Ireland, and each will be re-visited in it's own Download N Go- Expedition Australia, Expedition Africa, and Expedition Ireland! In fact, when we got to Ireland, my kids said, "Oh, we remember that place, mom!"
Another neat connection that I noticed was learning about using shells for money. Bop was excited when she remembered learning about people using cocoa beans for money in Chocolate Challenge. You will find more and more of these connection between the studies as you go along, I have just mentioned two that I noticed in the last few studies that we used. It really cements the learning, because you are calling back into their memories those other places and things.


I received this product free of charge for review purposes. I promise to be honest

and fair in my reviews, and I received no

other compensation in exchange for my review.

You can visit the Download-N-Go blog

to read more

reviews on this product.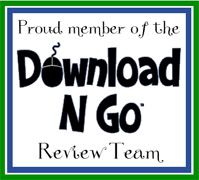 ---
You are next...
Click here to enter