Popcorn
. How many things are there to learn about popcorn? Well, if you use Amanda Bennett's Download N Go there is a lot to learn! We got to do some state studies, history, science, and more. We learned how the popcorn pops, visited a virtual popcorn museum, and we (of course) ate a lot of popcorn!
Your kids will have so much fun with
Hoppin' Popcorn
, that they fay forget this is 'school'! But you won't forget, because there is a lot of learning packed into this unassuming subject.
Day 1: Popcorn—What Is It?
Day 2: The Story of Popcorn
Day 3: The Flavors of Popcorn
Day 4: The Science of Popcorn
Day 5: Fun With Popcorn
We always have a lot of fun with that last day. Games, party ideas, printables, fun movies, and more. Have you seen the pages from the Download N Go studies? wow, they are so bright and colorful, the kids love them! The drawing pages are always a favorite, because they combine colorful background or fun borders with drawing ideas. You can download samples of the pages in Hoppin' Popcorn, which is excellent because I always like to see something before I buy it!
One of the fun features in Hoppin' Popcorn are the the beautiful pictures with poems and Bible verses on them. These are a fun way to get older kids involved in the study, through copywork and memorization. My kids aren't old enough to do long copywork yet, but there are still ways to use these to your advantage. You can even pick one of these pages and have them copy a portion each day.
We really loved Hoppin' Popcorn, so I couldn't resist the chance to show off a little of my kids' fun schoolwork. :)
Copywork
Watching the pops....
We did a fun experiment
to demonstrate how steam blows up a popcorn kernal. We ran out of water in our pan before the balloon was all blown up, but we got it large anyway!
I received this product free of charge

for review purposes.

I promise to be honest

and fair in my reviews,

and I received no

other compensation in

exchange for my review.

You can visit

the Download-N-Go blog

to read more

reviews on this product.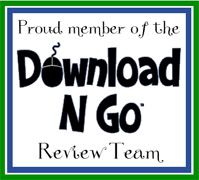 This giveaway will be a short one, so you need to have your entries in by TUESDAY the 8th. Sometimes it is nice to just enter and be done, without leaving 5 or 6 comments, so this giveaway is going to be EASY! Just leave a comment. Tell me you what you like about my blog, about Download N Go unit studies, or just tell me you want to be entered!
Now, if you WANT to follow my blog or talk about this giveaway on Facebook and Twitter, I will be delighted, but for the contest all you need to do is leave one comment.
Have fun, and good luck!