A lot of Christians wish that they could visit the places that Jesus walked. It would be powerful to see the red sea, walk down the dusty streets in the ruins of the ancient cities, and feel the dry wind brush your face. Now you can give your children a taste of that experience without leaving your home! We have spent the last two weeks exploring Israel with what is possibly our favorite Download N Go.
Expedition Israel is, in many ways, very similar to the other Download N Go unit studies we have done. It has lots of learning incorporated into the theme, covering all of the content subjects well. There are multiple learning avenues to appeal to the different characters in your bunch, such as video clips, reading, coloring, drawing, and experiments. You can even have your crafty kids use the included lapbooking pieces to make their very own work of art. There is copywork, science, geography, and history.
So what is different about Expedition Israel? There is just something special about sitting down with your children and watching a video of the very same olive grove that Jesus walked in. And then you find out that not only is it the very same grove, they are the same trees. Now go on to learn about olives, how they are harvested, and how olive oil is made. That gives you a taste for just one small section of the journey. The study has a geographical place of the day, with an accompanying Bible story. There is a Biblical hero for each day, and and animal and food for each day. And of course, each day also has a special theme of it's own.
Day 1: Where on Earth Is Israel?
Day 2: Some of the Special Places in Israel
Day 3: A Bit of History
Day 4: Cool Things to Know About Israel
Day 5: Fun and Games in Israel
What a line-up! We spent two weeks on this unit study, and I am so glad. Sometimes there just isn't enough time in our school day to cover everything in these comprehensive studies, and I didn't want to miss anything in Expedition Israel. We learned so much, but this unit study was about so much more the learning. It was an experience. We really felt like we were able to envision what the land is like, and what it was like in the times of the Bible heroes that we learned about.
The kids getting ready to try the Dead Sea experiment. They were very excited!
I can think of several ways to use this study, beyond the typical unit-study approach. It would be a wonderful 5-week Sunday School program, using the suggested books to supplement the learning instead of internet sites. You could use each day for one week of home devotions with Daddy, doing just a bit with breakfast in the morning. The animal of the day on Wednesday, and the Hero of the day on Thursday or some such arrangement.
Anyway you look at it, Expedition Israel is well worth $7.95, and it would be a wonderful companion to the the newly-released Easter Promise Download n Go, for your children in grades K-4th. Older siblings could easily tag along, and probably learn something too!
Be sure to stop by the
Download N Go blog
to read more reviews for Expedition Israel, and go to
Amanda Bennett's Unit Studies
for your free samples.
I received this product free of charge

for review purposes.

I promise to be honest

and fair in my reviews,

and I received no

other compensation in

exchange for my review.

You can visit

the Download-N-Go blog

to read more

reviews on this product.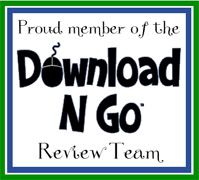 ---
You are next...
Click here to enter
What is a blog hop?
Get the code here...
---
You are next...
Click here to enter
What is a blog hop?
Get the code here...