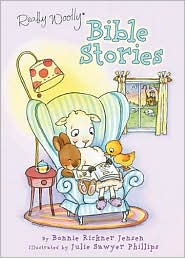 Really Woolly Bible Stories. Cute. Simple. Perfect for toddlers. This little bible story book is just precious! It has a soft padded cover and board pages, so it will stand up to little fingers and mouths. It has adorable, simple pictures that will definitely apeall to young kiddos, and every picture is accurate for Bible times (not little lambs like I thought it would be.) However, on the facing page are adorable Really Woolly characters doing something that corresponds with the story.
The rhyming text is what really sets this Bible story book apart. The lyrics are rhythmic, sometimes sing-songy, and really catchy. This is a really fun book to read, and since that is the whole point of a Bible Story book, that's a pretty good thing. I did find that some of the vocabulary a bit of a stretch, even for my brilliant homeschooled toddlers. Scheme? Wed? Defiant? A little above the toddlers' understanding, but it does not really take away from the charm of the book. And do we REALLY expect our two-year-olds to have a true understanding of 'David and Goliath'?
Overall, I thought this book was really sweet and tender, and would be a great bedtime storybook for the littlest children.