Read Write and Type
takes the idea that kids learn to type in highschool and turns it on its head. Instead, this company says that children can learn to type as easy as they can learn to write, and enjoy it, too! This program starts at the very beginning, assuming the child knows nothing about reading.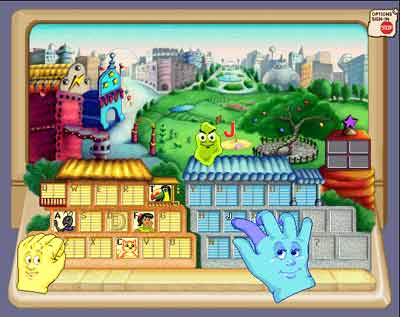 The scene is set in a small town, and the keyboard is pictured as two houses, with each key (or letter
sound) being represented by a storyteller. There are several locations around the screen, that are gradually introduced to the child as they need them. They will learn letter sounds, phonemic awareness, typing, and reading all in a gradual and natural way. Spelling is even taught as they type words like "cheese", "kite", and "Jack".
Read, Write and Type
is a game which has a mischievous villain, Vexor the Virus, who stole all the letter sounds. The child must use phonemic awareness, typing skills, and spelling to get each sound back. The game gets harder relatively quickly, adding longer words to be typed and harder words to spell.
See those
(kinda)
flying fingers!
Talking Fingers recommends this program be used for ages 6-9, and they offer two purchase options- an online membership, or a CD version. The online membership is for five years- $35 for one user, and $55 for two users. I think the CD version would also be a good deal for most homeschool families, at $79 for the kit and $39 for just the CDs. You can take a
product tour here
.
I had Bop and CJ both using this for the review, since they are both reading at a grade level ahead. Bop really enjoys it and she asks me to play longer. She is anxiously awaiting the letter 'b', she wants to see who lives in that window! She is moving through it quickly, but she does struggle with finger placement.
CJ has struggled more with it. He really enjoyed it at first, but it does move at a pretty quick pace, and the typing and spelling is getting pretty tough for him. He is two years under the recommended age, so I think he is doing pretty well. I think the only way to make this really work well with a much-younger child, would be to go back and use the practice games available so they move through it much slower. In general I would recommend sticking with the recommended grade ranges.
They love watching each other 'play'.
(Don't you love those snazzy sunglasses? After awhile she took them off because she couldn't see.
maybe that's why they're called SUNglasses. :)
I have really liked everything about this reading program. I like it's use of games to teach, while still keeping the emphasis on learning. I like how it is centered on learning the letter sounds first. I like how it moves naturally from one level to the next, nearly unnoticed by the child. I think the phonics is very sound, and the method of teaching letter location and finger placement is perfect for small children.
This program does NOT explain phonics rules. For example, Bop is typing many words with silent 'e', blends, and double 'ee'. It does not explain why the silent 'e' and double 'ee' words have long vowels, it just tells them the word, shows them the spelling, and then they type it. It is a very natural way of learning. I prefer that they learn the phonics rules eventually, but I don't think they have to know them before they start reading these more complicated words. She is also learning sight words, and words with double consonants at the end- like 'lick' and 'Sass'. And she has not even got that coveted 'b' sound yet! :)
I am really considering buying the CD version of Read, Write and Type at the end of our review period, I like it that much. And if their spelling program, Wordy Qwerty is anything like it, I may just purchase the bundle!
(This is one of the
story-telling games that
reward all that typing)
You can read more reviews of this product on
or go to Talking Fingers' website
here
.
You can try Read, Write and Type for yourself,
I received this product free of charge

as a member of The Old Schoolhouse Review Crew

,

for review purposes.

I promise to be honest

and fair in my reviews,

and I received no

other compensation in

exchange for my review.

You can visit

The Old

Schoolhouse Crew blog

to read more

reviews on this product.