Ok, I will be honest. I was really excited to do this unit study. I have a little Irish blood, and probably more then a little Irish temper (Please don't ask my husband about this). But I was blown away by the magnificent beauty of this little island. There is more packed into this week then I can possibly cover here, but some of our favorites were learning about the Giant's Causeway, Irish animals, and St. Patrick.
Starting with amazingly picturesque aerial videos, and ending with a lapbook full of your own child's creativity, we loved this
Download N Go
! You will journey through the land of Ireland, and meet all sort of interesting animals, visit amazing geographic landscapes, and have a lot of fun doing it. A wordsearch, lapbook pieces (including a great pop-up), time-and-temperature pages, and animal worksheets are all part of the fun. Of course, we especially love the drawing pages which have pretty borders or neat backgrounds for the kids to create their art on.
One of our favorite aspects of any of the Download N Go studies are all the great links. There are links to all kinds of webpages, with all the information you want. The best part? The video clips. Expedition Ireland includes videos for all sort of interesting subjects, from Irish music and dancing to the making of hand-blown crystal! You will get everything you need right in the study, and if you need even more learning you can use the extensive book lists and extra links.
I really enjoy using
Download N Go studies
because everythign is so simple. these studies are packed SO full of info, but the planning and organizing has all been done for you. Each day is planned out, and all you have to do is read through the pages and click on the links when you come to them. The only preparation I do is spent 15 minutes ahead of time, printing out the pages that I will want to do. One of my online friends, Tristan at
Our Busy Homeschool
sometimes uses these studies without printing anything. She just has her little ones read through it and visit the links.
Visit Unit Studies by Amanda Bennett to learn about all her great downloads and don't forget to pick up your free samples while you are there! Just click on the pictures to go to each study and take a peek inside.
I received this product free of charge

for review purposes.

I promise to be honest

and fair in my reviews,

and I received no

other compensation in

exchange for my review.

You can visit

the Download-N-Go blog

to read more

reviews on this product.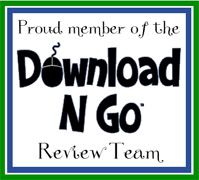 Giveaway:
Amanda Bennett has generously offered to give a copy of Expedition Ireland away to one of you! I feel like keeping things simple today, so I am only going to offer a few ways to enter.
Don't forget to leave your e-mail in your comment, or otherwise give we a way to contact you!
1. For your first entry, just leave a comment below.
2. For an additional entry, go to
this page
and let me know which of the $5 sale items you are most interested in.
3. For one last entry, visit
Unit Studies by Amanda Bennett
and tell me what you would like to see featured in her next $5 sale!
I will leave this contest open until next Friday, the 25th. I will be selecting the winner with Random.org.
Have fun and good luck!